Description
Inside the Book
ancient_thai_massage_small

Samples excerpt from the book: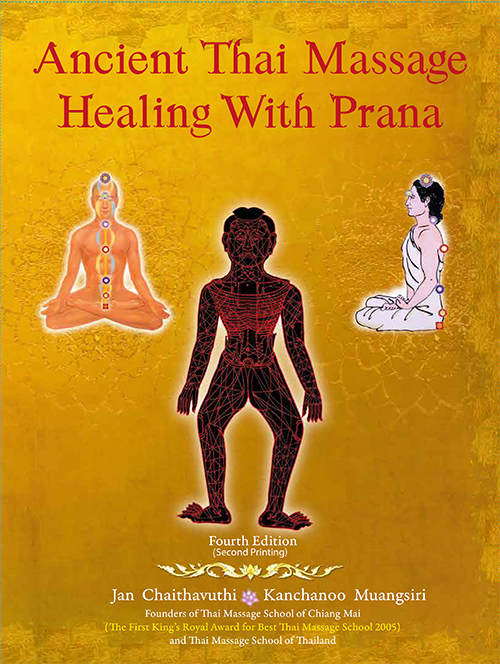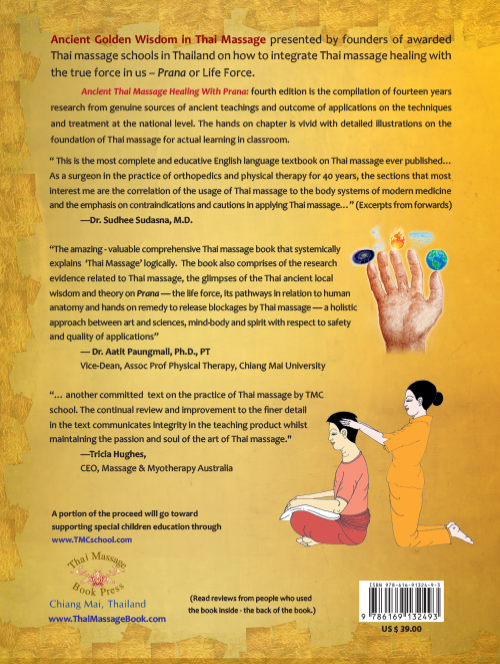 Ancient Golden Wisdom in Thai Massage presented by founders of awarded Thai massage schools in Thailand on how to integrate Thai massage healing with the true force in us – Prana or Life Force.
Ancient Thai Massage Healing With Prana: Fourth edition (Second printing) is the compilation of over ten years research from genuine sources of ancient teachings and outcome of applications on the techniques and treatment at the national level. The hands-on chapter is vivid with detailed illustrations on the foundation of Thai massage for actual learning in classroom.
Foreword from the 3rd edition…
This is probably the most complete and educative English language textbook of "Thai Massage" ever published. Besides, it has been written by native Thai experts who have had many long years of practice, teaching and research experiences in this field.
In this book, the history of Thai Traditional Medicine and Thai Massage are thoroughly reviewed, dating back from their origins in Buddhist era until the present time.
The philosophy and basic theory of Thai massage, especially "Sen Sib" are clearly and attractively presented.
As a surgeon in practice of Orthopedics and Physical therapy for 40 years, the parts of the content that most interest me are the correlation of the usage of Thai massage to body systems of modern medicine, and the emphasis on contraindications and cautions in applying Thai massage. These are rationale that Thai massage can be practised as a supplement in many orthopedic conditions with effectiveness and safety. Moreover, from experiences of many physical therapists and my own, it can be confirmed that, in appropriate disease-conditions, the combination of physical therapy and Thai massage give excellent clinical results.
Last but not least, the last chapter of the book is on the practice of Thai massage, with plenty of beautiful, precise and well-demonstrated illustrations.
Overall, this book is of great value to all who are interested in Thai massage, especially students, physical therapists and massage practitioners. It is also worth to have in the library for the sake of preserving and making available as a resource for study.
"Massage is a healing practice, not just for pleasure and relaxation"
Associate Professor Sudhee Sudasna, M.D.
Orthopedic consultant
Associate Professor Sudhee Sudasna, M.D. is well-respected in the orthopedic field of Thailand. He received a medical degree with honor from Chiang Mai University in 1966.  His Orthopedic Residency was in Albany Medical Center and Shriners Hospital for Crippled Children, USA. He holds a Diploma American Board of Orthopedic Surgery.
Dr. Sudasna was a prominent and dedicated associate professor (Orthopedic Surgery and Anatomy) at the Department of Orthopedic Surgery, Faculty of Medicine, Chiang Mai University for nearly 30 years. He was the first to start hip & knee replacement in northern Thailand, and the first to start microvascular & replantation surgery in Thailand.
Associate Professor  Sudasna is an orthopedic consultant at Chiang Mai Ram Hospital and is also a lecturer.
More comments from experts in the field…
The amazing – valuable comprehensive Thai massage book that systemically explains 'Thai Massage' logically.  The book also comprises of the research evidence related to Thai massage, the glimpses of the Thai ancient local wisdom and theory on Prana —the life force, its pathways in relation to human anatomy and hands on remedy to release blockages by Thai massage — a holistic approach between art and sciences, mind-body   and spirit with respect to safety and quality of applications
— Dr. Aatit Paungmali, Ph.D., PT Vice-Dean, Assoc Prof Physical Therapy, Chiang Mai University
… another committed  text on the practice of Thai massage by TCM school. The continual review and improvement to the finer detail in the text communicates integrity in the teaching product whilst maintaining the passion and soul of the art of Thai massage."
—Tricia Hughes,CEO, Massage & Myotherapy Australia
…..the most up to date, all inclusive, detailed reference guide for the serious minded Thai Massage practitioner. The how to – the dos and don'ts are concisely spelled out to easily guide the practitioner step by step…
—Dr. Chas "Yogi" Ferris ND, LMT, GCT Teacher