Description
Inside the Book
foot-reflexology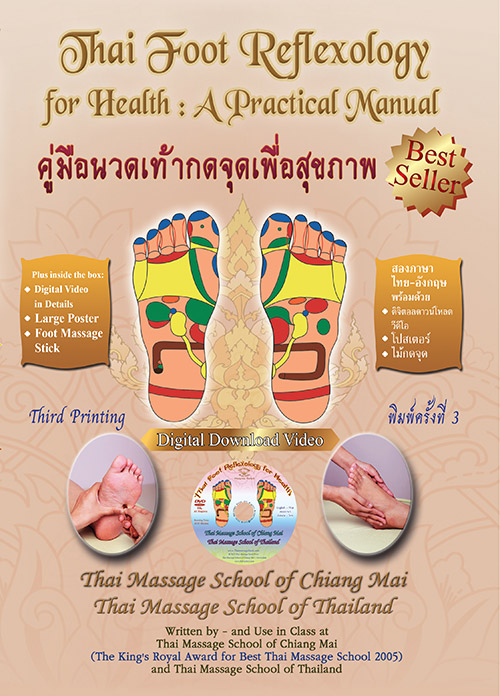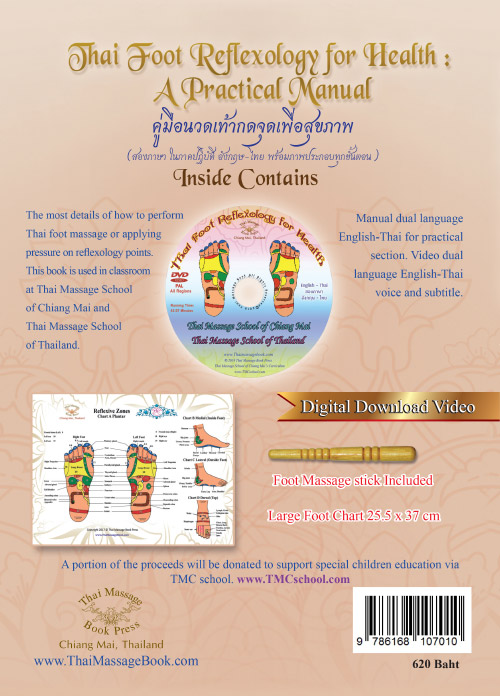 The set complete with each movement- detail manual; Digital Download Video in voice English -Thai, subtitle of English – Thai; poster and foot massage wooden stick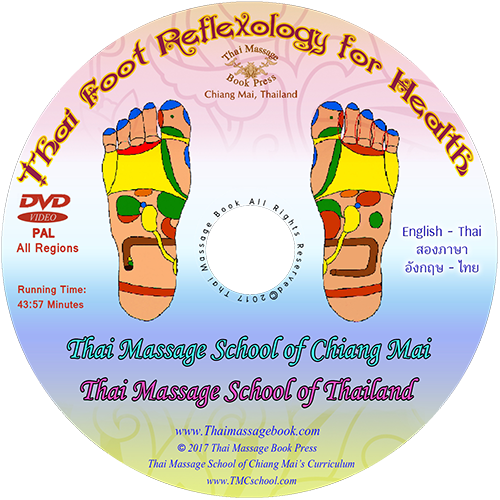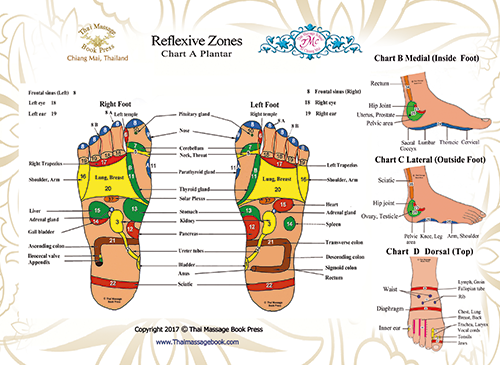 Sample of video for Thai Foot Reflexology for Health
The sample only contains English voice. The original video is professionally made with license of approval from the Thai government. It has dual voice English-Thai, Subtitle English-Thai with chapters' selection.
Running time is 43.57 minutes.
The video of Thai Foot Reflexology for Health is a step-by-step complete detail with each movement demonstration by a certified teacher of the Royal Awarded Thai massage school—Thai Massage School of Chiang Mai (TMC).
The most comprehensive hands on manual for Thai foot reflexology. The demonstrations performed by the teachers following Thai Massage School of Chiang Mai's curriculum. This is the manual of techniques taught at Thai Massage School of Chiang Mai (TMC).
The manual shows step-by-step with clear picture and points to follow and review for self- practice on foot reflexology. In addition, legs, arms, hands and shoulder massage are included. The large size poster with complete reflexology points to see along is in the set also a foot massage wooden stick to apply when practice.
This colorful manual comes in dual languages English and Thai for practical section. This is a good language learning tool for Thais as well.
Most importantly, the set comes with the information for digital download   for Thai Foot Reflexology for Health VDO. This is the great tool for review and/or for self-learning. The video produced professionally with high integrity and earned the quality of professionalism production license under the Thai government licensing requirement.
The book received high demand and the first print ran out in less than a year. Thus the second printing and we create the book set complete with all needed tools for success learning.Learning Thai foot reflexology for your love ones on add on to your massage profession can be fun and pleasure in giving and receiving. This book set will help you achieve that goal. It is a gift of love and last a life time… Enjoy!